Floating Cranes
Gottwald Floating Cranes
Innovation on the Water
Gottwald Floating Cranes are the ideal choice for cargo handling on waterways with few quays or none at all, or if capacities have been exhausted:
based on proven

Gottwald Mobile Harbour Crane

technology
efficient cargo handling independent of quay availability
designed for ship-to-ship or ship-to-quay handling.
One Single Idea – Many Fields of Application
Gottwald Floating Cranes are mobile and can be used:
in rivers (mid-stream transhipment)
in ports
in protected waters
in coastal waters
on the open sea.
Proven Gottwald Mobile Harbour Crane Technology on the Water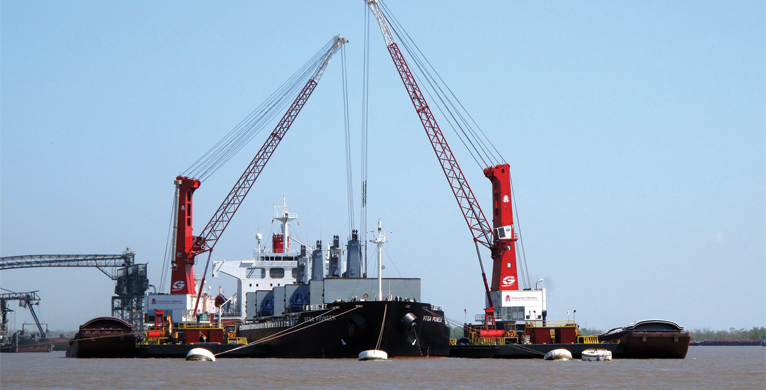 Gottwald Floating Cranes combine Gottwald Mobile Harbour Crane technology with a barge and can be designed as:
Harbour Pontoon Cranes: the crane is on a pedestal mounted on an individually designed barge.
Barge-mounted Portal Harbour Cranes: with this special type of crane, the barges have rails upon which the HSK can be travelled thanks to its rail-mounted portal. This enables the crane to service several holds without warping the barge.
Gottwald offers numerous variants developed to meet the requirements of the specific fields of application.
Above the slew ring, Gottwald Floating Cranes have the same components as Gottwald Mobile Harbour Cranes. As a result, they provide all of the same benefits, such as:
diesel-electric or fully electric drives for optimised efficiency
efficiently able to handle all forms of cargo (containers, bulk, general and project cargoes)
rapid change of lifting gear.
Gottwald Floating Cranes are available in all variants including 4-rope grab variants for professional bulk handling.
Individual Barge Constructions
For the best possible solutions, Gottwald Floating Cranes combine the company's own legendary crane know-how with the expertise of third-party professional barge manufacturers. Customers can choose to order a new barge or to convert an existing one. If required, Gottwald will work as the general contractor. The size and exact design of the barge can be adapted to suit your specific preferences.
The Benefits of the Barge
Thanks to its independence of landside cargo handling systems, low specific investment costs and short delivery lead times, Gottwald Floating Cranes are the ideal way to avoid long approval procedures, and to minimise construction times and investment on site purchase and quay construction.
Ports can service more and larger ocean-going vessels. Direct transhipment between ocean-going vessels and barges makes quays superfluous.
When additional capacity is required, floating cranes can supplement land-based handling capacities