Model 4

Compact, Functional and High-Performance
Designed in a compact and functional manner, the Harbour Crane Model 4 extends the existing model range of the Generation 5 in the 100-tonne segment downward. The crane has a maximum lifting capacity of 100 tonnes, a working radius of up to 46 metres and the usual high crane classifications such as A7 for a 40-tonne grab curve or A8 for a 34-tonne grab curve.
The crane thus meets the requirements of universal and special terminals and can serve ships up to the Panamax class. At the same time, Model 4 is attractive for terminals that, on account of their size and development potential, are already anticipating larger cargo-handling volumes and increasing annual operating hours for discharging equipment.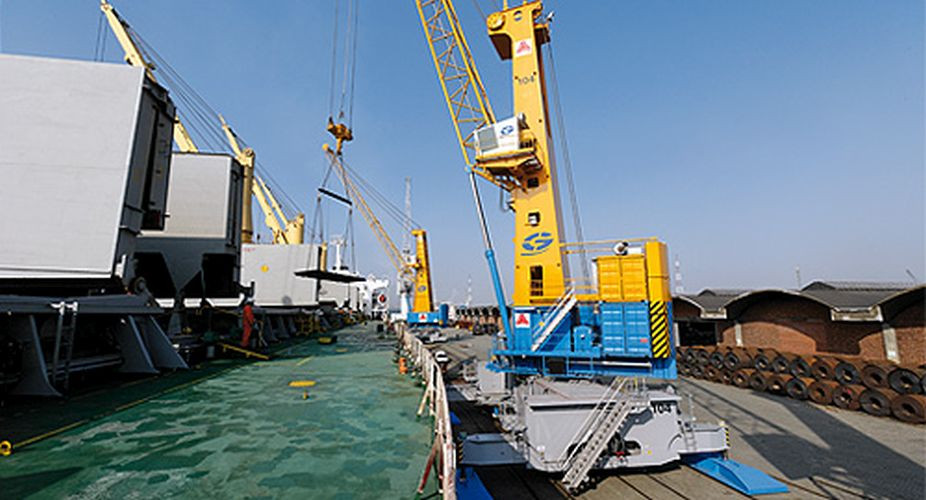 With the Model 4, Gottwald is presenting cargo-handling equipment that ranks eminently among the range of models in Generation 5, and in addition to its compact overall design, offers many versatile benefits in its application: As versatile as possible, no larger than necessary.
Attachments

Technical Data

Variants
Technical Data:
Max. lifting capacities
see table below
Dimensions and Weight
Radius
11 - 46 m
Boom pivot point
16.7 m
Tower cab (crane operator eye level)
19.1 m
Propping base
13.0 m x 12.5 m
Chassis in travel mode
16.3 m x 9.0 m
Weight (approx.)
360 t
Hoisting Heights
Above quay level
42.0 m (44.0 m*)
Below quay level
12.0 m
Travel Gear
Axles
6
Steered axles
6
Driven axles
2
Crab steering
25°
Working Speeds and Drive Power
Hoisting/lowering
see table below
Slewing
0 - 2.0 rpm
Luffing
0 - 80 m/min
Travelling
0 - 80 m/min
Diesel engine power
see table below
* for the G HMK 4306 B four-rope grab variant
Variants:
Variant
Max. Lifting Capacity
[t]
Max. Hoisting Speed [m/min]
Hoist Configuration
Diesel Engine
Power [kW]
74
100
80**
34
70
75
90
100
1 x 2
2 x 2
750
895
G HMK 4306
•
•
•
•
G HMK 4406
•
•
•
•
•
G HMK 4306 B
•
•
•
•
** heavy lift (above), 4-rope grab variant (below)
1 x 2 = one 2-rope hoist
2 x 2 = two 2-rope hoists