MHL474
Definitive Performance - Greater Work Radius
MHL 474 - Key Features
Up to 11.15 meter reach with 0.8 m³ grab
Up to 44 tonne operating weight
213 kW, 286 hp turbo diesel engine
All-wheel drive to a maximum 20 km/h
Track gauge and wheelbase alignment for optimum stability
6.5 meter turning radius
hydraulic damping system designed for low vibration equals low wear and tear
Ergonomic design focused on safety, safety and control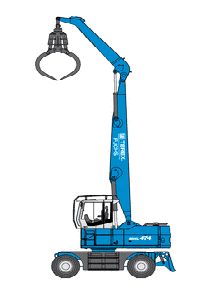 With an operating weight of up to 44 tonnes and a reach of 11.15 meters, the Terex Fuchs MHL 474 sets new standards for performance in timber handling. Driven by a powerful 6-cylinder turbo diesel engine incorporating common rail technology and offering an output of 213 kW, this machine is a hardy workhorse when it comes to handling large quantities of timber. The grab can accommodate up to 4.0 m2, permitting handling efficiency and speed to reach new dimensions.
Mobility, too, leaves nothing to be desired. Its hydrostatic all-wheel drive, coupled with a maximum speed of 20 km/h allow the Terex Fuchs MHL 474 to remain stable, flexible and maneuverable despite its considerable size. The alignment of its track gauges and wheelbase, each of which measures 3.6 meters, set it apart from the competition. Not only does this result in a stable base, it also produces a turning radius of a mere 6.5 meters, eliminating the need for cumbersome maneuvering.
The MHL 474 maintains Terex Fuchs mobile material handlers' legendary reputation for ruggedness and reliability. Optimal static design and stability make the steel structure unique. The powerful yet sensitive high-performance hydraulics which incorporate significant lifting and slewing capabilities, make child's play of swift maneuvers – even when handling substantial loads. The hydraulic damping system has been specifically developed to keep vibration and, thus, wear and tear to a minimum whether undertaking swift maneuvers or in drive mode.
Comfort, ergonomics and safety characterize the cab and steering design. The extensively glazed cab is air-conditioned and incorporates a comfortable seat that provides lumbar support. The clearly laid out multi-functional display provides an immediate overview of all important operating data; this, coupled with the intuitive interface, makes for quick and safe responses.