Model 3

The Entry Model for the 100-Tonne Segment
With its very compact and functional design, the Model 3 is the entry model in the medium-sized crane family from Konecranes Gottwald Solutions. This Konecranes Gottwald crane, designed for general requirements, features load capacities up to 100 t, a maximum working radius of 46 m and lifting speeds of up to 120 m/min. Model 3 is a two-rope crane and is available in a number of variants. It is used for the handling of containers and general cargo on ships up to standard class.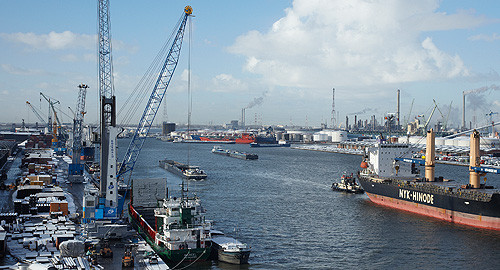 The Model 3 harbour crane's compact construction is achieved by the accommodation of the diesel generator and control units in preconfigured containers, protected against the weather, soundproofed and air conditioned. Model 3 also uses our proven, low-maintenance three-phase technology which simplifies the application of energy-saving technologies.
The Konecranes Gottwald Model 3 harbour crane is an ideal entry model for the loading and unloading of containers and general cargo. The maximum lifting capacity of 100 t also makes heavy-load lifting possible. Equipped with motor grabs, the crane can also load and unload bulk carriers up to Handysize.
Attachments

Video

Technical Data

Variants
Technical Data:
Technical Data Model 3
Max. lifting capacities
see table below
Dimensions and Weight
Radius
11 - 46 m
Boom pivot point
16.7 m
Tower cab (crane operator eye level)
19.1 m
Propping base
12.0 m x 12.0 m
Chassis in travel mode
15.7 m x 9.0 m
Weight (approx.)
300 t
Hoisting Heights
Above quay level
42.0 m
Below quay level
12.0 m
Travel Gear
Axles
5
Steered axles
5
Driven axles
2
Crab steering
25°
Working Speeds and Drive Power
Hoisting/lowering
see table below
Slewing
0 - 2.0 rpm
Luffing
0 - 80 m/min
Travelling
0 - 80 m/min
Diesel engine power
see table below
Variants:
Variants
Variant
Max. Lifting Capacity
[t]
Max. Hoisting Speed [m/min]
Hoist Configuration
Diesel Engine
Power [kW]
80
100
97
100
120
1 x 2
765
G HMK 3305
•
•
•
•
G HMK 3405
•
•
•
•
•